What is tuberous sclerosis complex?
Tuberous sclerosis complex (TSC) is a genetic condition with a spectrum of clinical expressions. It is commonly present with epilepsy, autism or developmental delay, and skin birthmarks in early childhood. Sometimes, during adolescent years, skin lesions resembling severe acne may be the presenting feature.
Other organs like the heart and lungs may be involved during early or late life, presenting as heart failure, conduction abnormalities, palpitations and breathlessness. Later in life, TSC can make its mark with kidney tumors and kidney failure. Patients with a mild form of the disease may remain undiagnosed– and family members unaware of their genetic risks – until later in life when TSC may attack vital organs.
If they spread to involve a large enough area of the brain, partial seizures can turn into a generalized tonic-clonic seizure. So it is possible for a patient to have both types of seizures.
What are the health risks involved with tuberous sclerosis complex?
Epilepsy, if poorly controlled, can have devastating consequences on the patient's and family's quality of life. The following can also occur:
Tumors can form on the surface or deep areas of the brain, including the walls of ventricles. When this happens, tumors block the flow of spinal fluid. Pressure from buildup (hydrocephalus) can cause headaches, nausea and behavioral changes.
Young patients can suffer from tumors in the heart which may result in heart failure or conduction abnormalities. These are called cardiac rhabdomyomas tumors and generally decrease in size with age.
When tumors grow too large in the kidneys and go untreated, the patient can develop renal failure. Rarely, these tumors may become malignant.
Acne-like lesions and pea-sized skin growths, especially on the face, may cause cosmetic disfigurement and psychological difficulties. This can be treated early with dermatologic surgery.
Eye tumors that grow too large in the retinas can cause mass effect or hemorrhaging that can leading to impaired vision.
How is tuberous sclerosis treated?
Epilepsy is usually the first and most common symptom of brain involvement in patients with TSC. Early and aggressive treatment of the epilepsy is essential to improving the cognitive outcome, as well as the quality of life, as has been shown in various studies from our other centers. When medical treatment fails, evaluation for the possibility of epilepsy surgery should be considered early in every patient with TSC.
Multiple tubers appear as "cold" on Brain PET. This technique is useful for evaluation for epilepsy surgery.
The challenges of epilepsy surgery in a patient with TSC are more complex, but not insurmountable, in the hands of experienced epilepsy specialists and surgeons working as a team. At Cleveland Clinic Epilepsy Center we have established a multi-disciplinary team of dedicated pediatric and adult epilepsy specialists, neurosurgeons, neuropsychologists, neuroradiologists, functional neuroimaging experts, cognitive and behavior experts, health psychologists and bioethicists to administer epilepsy care to TSC patients. The team meets on a weekly basis to discuss the best individualized plan of care for patients with complex epilepsy.
Cleveland Clinic's Tuberous Sclerosis Program provides comprehensive longitudinal medical and surgical care to patients and families with tuberous sclerosis complex (TSC) via a coordinated multi-disciplinary program housed in the Cleveland Clinic Epilepsy Center.
Through this program, we also advance our understanding and treatment of Tuberous Sclerosis through collaborative research while providing an educational avenue to families with Tuberous Sclerosis.
Cleveland Clinic's Tuberous Sclerosis Program offers:
A focused team approach from expert physicians who deliver comprehensive, multidisciplinary medical and surgical care. These physicians discuss patient care, as needed, to provide the best treatment option.
A world-class reputation for diagnosing and treating TSC-related conditions, including one of the largest programs in the world for epilepsy evaluation, epilepsy surgery and treatment.
A focus on families, with specialists who address the needs of adult and pediatric patients.
Coordinated care so patients can access multiple services through one channel.
Outside of a focused TSC program, fragmented care could come from all directions. Managing a multi-organ dysfunction, follow-up screening, early intervention, treatment and counseling is challenging for the patient as well as the individual physicians seeing patients in different settings.
Instead, these responsibilities can be delegated to the TSC program where a dedicated team of specialized physicians in one tertiary care center share the medical information of a patient through electronic medical records, and provide individualized care through a specialized team approach. With this coordination, the program delivers seamless care to patients and their families.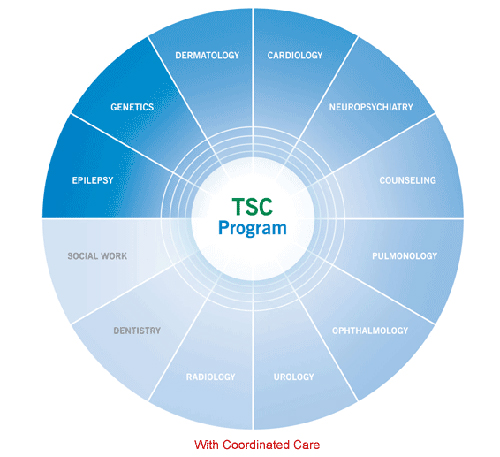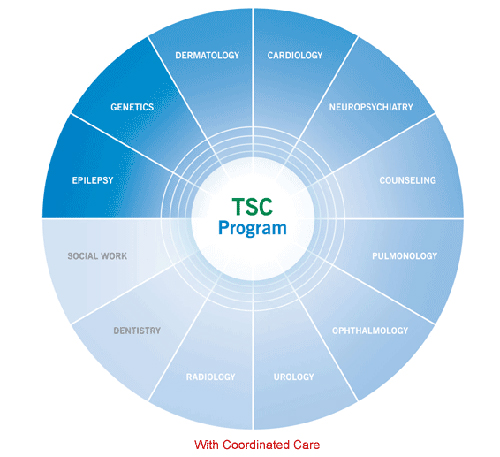 There is no cure for TSC, but when we deliver care to patients via our TSC Program, we coordinate services that accommodate their ongoing needs from a staff of professionals who understand the condition. Cleveland Clinic's TSC Program will collaborate with the referring physicians, depending on the patient and family needs, and can serve as an expert and consultative arm while ongoing care is continued locally.
Continuing care from experts who understand Tuberous Sclerosis is the key to successfully managing the condition, mitigating its complications, and providing the best life possible to each individual and family with TSC.
What research is being done to treat tuberous sclerosis?
Physicians in the Tuberous Sclerosis program are at the leading edge of TSC treatment and are committed to research and education to improve the lives of patients and families with TSC. Unfortunately, many questions about the disorder are still unexplained. What determines epileptogenicity in tubers? What are the best medical or surgical approaches to treat brain, eye, and kidney disease? What is the cause of the spontaneous genetic mutation that produces TSC?
Cleveland Clinic's TSC Program is charged with finding these answers through research initiatives.